On the second day of the SLOW LIFE Symposium at Soneva Kiri, Thailand, the theme was "Innovating Within Natural Limits." A group of around 30 visionary thinkers from diverse areas of expertise engaged in detailed debates on topics including natural resource capital, the role of corporations and marine conservation.

Host Sonu Shivdasani reminded participants of their purpose at this mid-way point of the event. "The Symposium has been designed to provide maximum opportunity to facilitate conversations amongst you that will lead directly to positive change. Soneva and the SLOW LIFE Foundation are committed to providing support to new ideas and to driving these forward."

Pavan Sukhdev, Founder and CEO of GIST Advisory and Corporation 2020, began by arguing that because corporations are no longer working for society, we need to convince them that "human capital is the present value of future increases in income."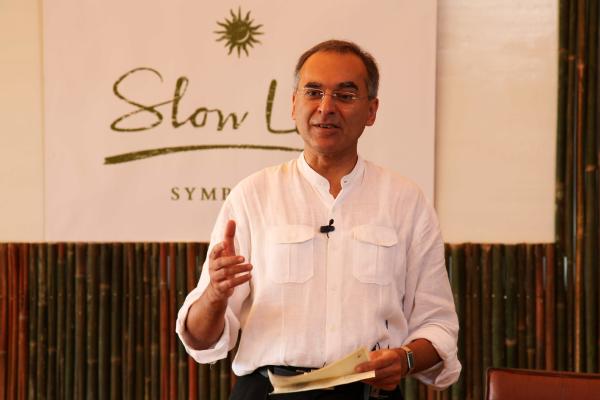 GDP is measured solely in terms of income, salaries and corporate profits, whereas the natural world has value but no price, he argued. "As economics has become the currency of policy, we should use the language they understand and put a value to what ecosystems provide."

Other key drivers in Sukhdev's programme of reform include resource taxation, making advertising accountable and setting maximum levels of allowable debt.

 "I see planetary boundaries as time bombs," said Sukhdev. "We are a time bomb disposal squad. But we need a toolkit."  Some participants responded by suggesting that social media and polling could harness public opinion and make the problem impossible for politicians to ignore.

Another solution put forward was to enlist some corporations to the cause and others will follow suit. For example, the food industry is stimulated by a concern that their resources might dry up.

The ethics of food production was also on the agenda during the session on "Ocean Dimensions". Chris Gorell-Barnes, Co-Founder of the BLUE Marine Foundation, said there is a lack of public awareness of which fish should and shouldn't be eaten, and also of the fact that the most exclusive and fashionable restaurants in cities like London and New York are serving endangered species on their menus.

Given that the ocean covers 72% of the planet's surface, explorer and campaigner David de Rothschild pointed out, "we should have been called Planet Ocean", further highlighting our problematic relationship with nature. "How do we fix the ocean if we are so devoid of emotional contact with what it contains?" he asked.

But the writer, filmmaker and adventurer Jon Bowermaster wanted to focus instead on "the 4 billion people who live on the edge of the ocean." He pointed out that one in six fish is caught by a slave, in places like Burma, and then exported to big US companies like Walmart, to whose directors we should appeal.

Meanwhile Lida Pet-Soede, leader of WWF's Coral Triangle Program, pointed out that most marine conservation is being done by the private sector in partnership with NGOs. So the key question, she argued, is "where does the money come from and how does it flow"? Gorrell-Barnes said that there is a tiny amount of funding for marine conservation compared to other environmental issues.

One solution is getting travel and tourism to take the initiative as the health of the ocean is central to the future of their business –not only on the menus but also guest leisure and educational activities.  Eva Shivdasani, creative director of Soneva, spends much of her time lobbying the world's top restaurants to stop serving shark-fin soup (in particular), but also endangered fish species. She also insists upon a highly researched menu of sustainably caught and healthy fish stocks.

On the third and final day, participants will be pitching their ideas for collaboration and change at an "Innovation Bazaar"  – report to follow.
Source = SLOW LIFE Symposium